Frequently Asked Questions
General
Do you take insurance? What payment methods do you accept?
No, I do not take insurance.
I accept cash, check, all major credit cards, PayPal, Square, Stripe.
What is my promise to clients?
It is an honor to be a guide on my client's journey. Building trust and creating a safe, sacred space for clients to do their inner work is my top priority.
My # 1 hope is to provide every client with deep healing and a roadmap to their spiritual self. I help my clients transform their old, negative beliefs and create long-lasting healthy beliefs so they can begin to feel empowered.
Building connection and trust is paramount in the work that I do with clients. I am direct and will provide authentic feedback with a balance of compassion and honesty. Soul coaching is different from traditional therapy in that I will be actively engaging with you, not just sitting back and listening. I provide a safe environment and will guide you with grace and acceptance.
What is your cancellation and refund policy?
1:1 Sessions:
There are no refunds with 1:1 sessions, but I realize life happens and things come up.

If you cancel 48 hours before our 1:1 session, you will not be charged.
If you cancel within 48 hours of our 1:1 session, you will be charged.
One (1) month notice is required when terminating our 1:1 work together.
Soul Circle:
There are no refunds upon enrollment into the Soul Circle.
One (1) month notice is required when terminating your participation in the Soul Circle.
Workshops and Retreats:
There are no refunds once you book your spot in a workshop or retreat.
Soul Coaching
What are the benefits of Soul Coaching?
The benefits of soul coaching are to align your inner, spiritual life with your outer world. The intention of soul coaching is to release the psychological and emotional residue that you accumulated throughout your life, so you can become more spiritually aligned and connected with your own inner wisdom.
Through coaching, guidance and hypnotherapy, unhealthy patterns, blocks and limiting beliefs are released so you can become your most authentic self.
The soul coaching process is like a lotus unfolding or peeling back the layers of an onion. As you peel back the layers, more healing happens. The more you heal, the more spiritually connected you become. As humans, we are never "done" learning and growing.
All the answers we need are within us. I help my clients get to that place of inner knowing so they can trust themselves for guidance.
Does Soul Coaching work for everyone?
Yes, soul coaching can work for everyone! Anyone who wants to move beyond traditional therapy and access deep healing and connect to their spiritual side can benefit from soul coaching. If you ever wondered "Why am I here? What's the purpose of my life?" then soul coaching is for you.
Soul coaching sets you on the path to gain a better understanding of your spiritual self and inspires you to live a more meaningful, soul-purposed life.
When can I expect to see changes from soul coaching?
Just like with any healing modality, soul coaching is not a quick fix or a magic pill. The more you explore and heal your inner world, the more authentic you become.
I also offer hypnotherapy and guided journeys where I work with clients in their subconscious mind. Working in the subconscious can often lead to faster results and a deeper healing.
Hypnotherapy
The term "hypnosis" comes from the Greek word hypnos, meaning "sleep." Hypnotherapists use exercises that bring about deep relaxation and an altered state of consciousness—known as a trance state. When a client is in this relaxed state, their ego-defenses are reduced, and they are able to heal aspects of themselves they wouldn't normally be able to in a more traditional setting.
Hypnosis is a 'fancy word' for a deep state of relaxation. My clients are always in control of their mind and free will. And no, you will not cluck like a chicken (that's stage hypnosis). Hypnotherapy is therapeutic, and yes, you will remember everything.
Who can benefit from hypnotherapy?
Everyone can benefit from hypnotherapy! In the hypnotic state, the hypnotherapist is a guide for the client. The client goes to where they need to go within the subconscious mind. The subconscious is like a sponge that holds your memories. If an event needs to be explored, the mind will bring up the memory for the client to process and heal.
Is there a difference between a virtual versus in-person hypnotherapy session?
Since the onset of the pandemic, all my sessions have been virtual. I have conducted hundreds of virtual hypnotherapy sessions.
Virtual and in-person hypnotherapy experiences are not too different from one another. With virtual hypnotherapy, the client is in the comfort of their own home, which tends to add more comfort and ease to the process. The client will need to ensure they are not disturbed or interrupted during the session by establishing any necessary boundaries.
During a virtual hypnotherapy experience, the client will lay down on a couch or bed and ensure their screen is angled so I can see and hear them (headphones are a plus!).
With both in-person and virtual hypnotherapy sessions, comfortable clothes, a blanket, and a pillow are always encouraged.
When can I expect to see changes from hypnotherapy?
Many clients experience deep healing in just one session. When I experienced hypnotherapy for the first time many years ago, after just two sessions I felt as though I had completed six months of therapy. The connections and awareness were profound.
Just like any healing modality, the more you do it, the more you heal. It is like turning down the volume of your limiting beliefs and turning up the volume on your soul.
Chakra System
What is the Chakra System?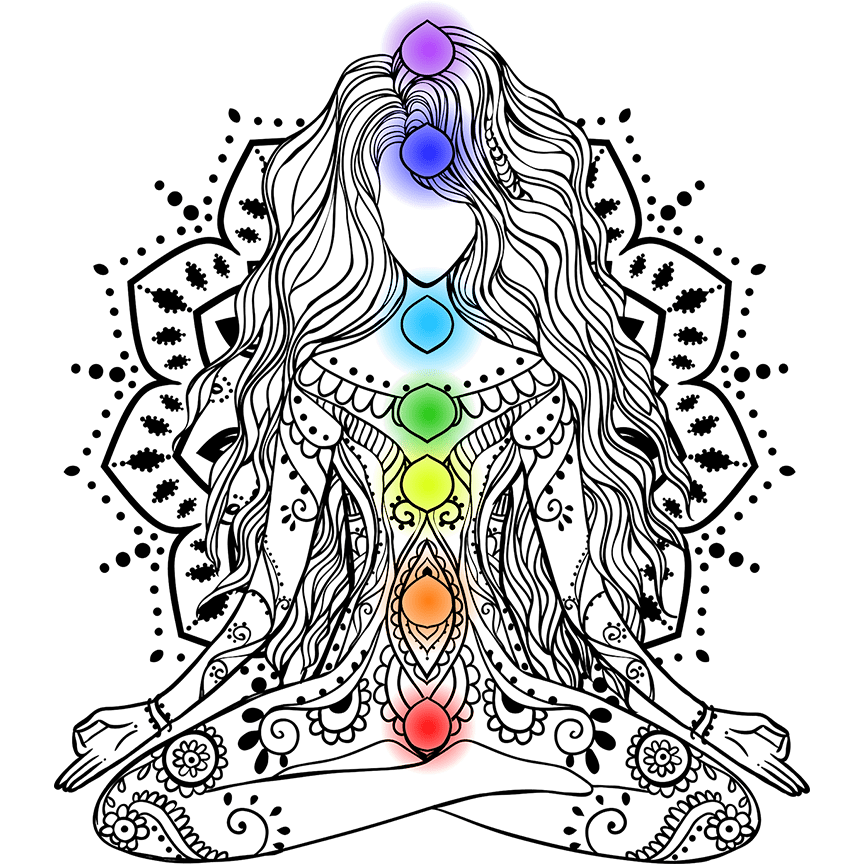 The Sanskrit word Chakra means wheel or disk. In yoga and meditation, Chakra refers to wheels of energy throughout the body. There are seven main chakras within the body; they start at the base of the spine and continue up to the crown of the head.
To imagine a chakra in your body, imagine a pinwheel or a swirling wheel of energy where consciousness (the mind) and matter (the body) meet. This energy, also called Prana, is our life force that keeps us healthy, vibrant, and alive.
Chakras are literal nerve bundles that align within your spine. These nerve bundles connect to your organs and also house your psychological, emotional, and spiritual states of being. With that, imagine for a moment the significant role chakras play in helping to ensure we remain healthy and well!
Visit the Chakra System page for more information.
Do you integrate the Chakra System into all your client sessions?
Yes, I often teach and refer to the chakra system in my work with clients. Depending on my client's needs, I'll integrate any and all my modalities into our work, from psychotherapy to hypnotherapy, past life regression and more.
A big part of the work we do together is getting a client 'out of their head' and into their body. With the chakra system, we identify a present feeling, then locate that feeling within the body. When the feeling is located, I teach my clients about that specific chakra, how it relates to what they are feeling and the events in their lives. The seven chakras within our body are always giving us signals– if we pause and listen.
Receive my Complementary Self-growth Tools and Healing Light Meditation in your Inbox